FAQ About Toyota Hybrid & Electric Vehicles in Beaufort, SC, Serving St. Helena Island & Port Royal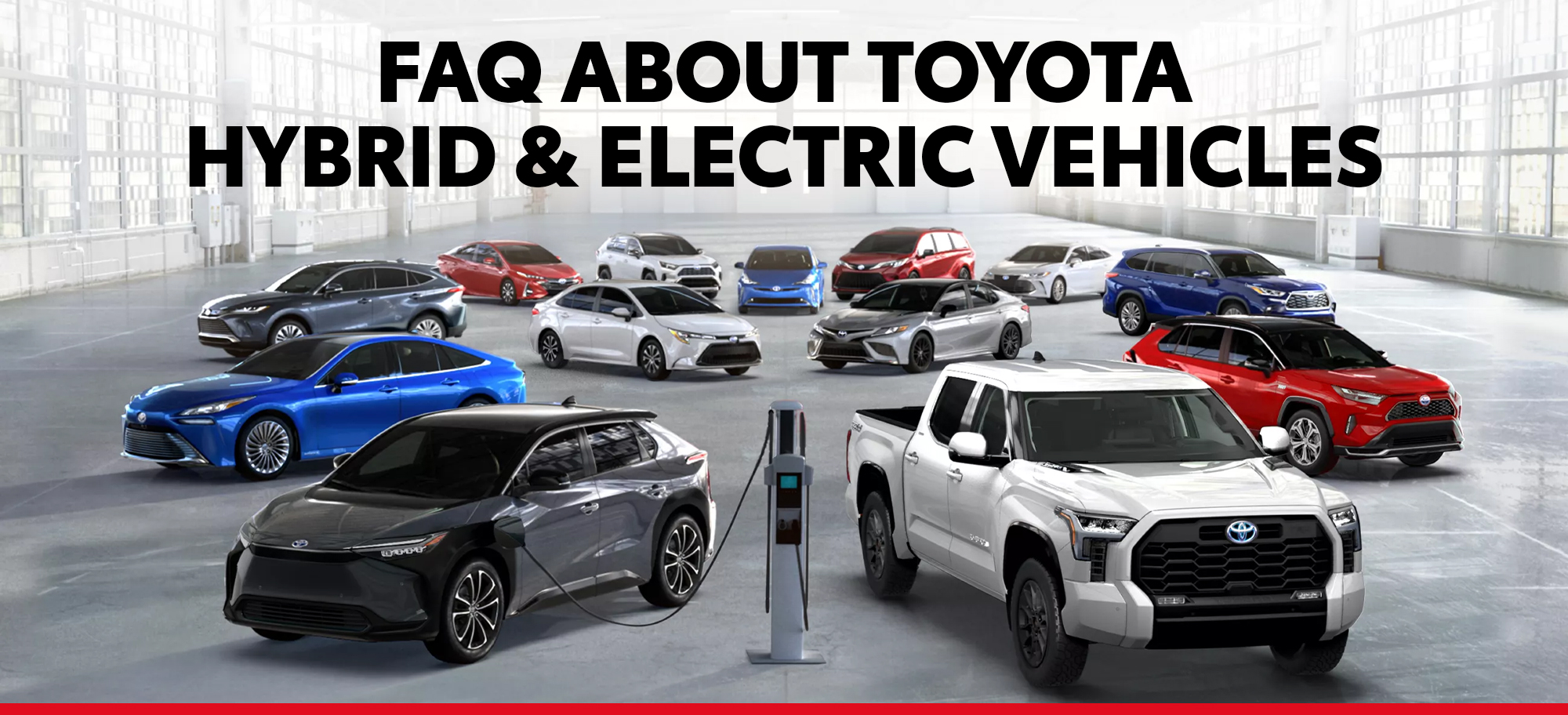 FAQ About Toyota Hybrid & Electric Vehicles in Beaufort, SC, Serving St. Helena Island & Port Royal

What are the types of alternative fuel vehicles Toyota offers and what are the differences?
Toyota currently offers both hybrid and plug-in hybrid vehicles, and soon electric vehicles will be joining their alternative fuel lineup.
Toyota hybrid vehicles are powered by a powertrain that pairs an internal combustion engine (ICE) that uses gasoline and an electric motor powered by a battery that can charge itself through regenerative braking.
Toyota plug-in hybrids are powered the same way as regular hybrids, except that the battery for the electric motor is larger and can self-charge through regenerative braking OR can be charged by connecting it to an outlet or charging station using an included charging cord. Toyota plug-in hybrids also offer an EV-only driving mode to save more fuel.
Toyota electric vehicles are powered ONLY by an electric motor with a large battery pack. They must be plugged in when the battery runs low in order to "refuel." However, you can plug them in at home or at any public charging station. No trips to the gas station are required.
Does hybrid efficiency mean lower performance?
Not at all! While the hybrid ICE might offer lower cylinders than the full ICE, the hybrid's electric motor provides instant torque, meaning little to no hesitation when accelerating. For example, consider the 2022 RAV4 Hybrid. Its 219 net hp makes it the more powerful than the other 2022 RAV4 gas-only trims.
How do you refuel a Toyota hybrid?
Toyota hybrids refuel just like a regular gas-only Toyota model, and only 87-grade octane is required ‐ no extra money in the budget for premium fuel needed. Toyota plug-in hybrids use gas as well, and you can recharge them using a standard outlet at home or a public charging station. However, plugging in is still optional as these vehicles also have regenerative braking that takes the energy produced from braking and uses it to recharge the battery.
Are Toyota hybrids hard to maintain?
Definitely not! In fact, with the electric motor assisting the ICE, that means LESS wear and tear on the engine and brakes than gas-only models endure.
What about the Toyota hybrid battery? How long will it last and how much is a replacement?
The lifespan of your Toyota hybrid battery will depend on several factors; however, most hybrid batteries these days can last over 100,000 miles. While the battery replacement cost is more expensive than the price of a non-hybrid battery, that cost is significantly lower than it was years ago. Also, Toyota hybrids that are 2020 models or later are now covered by a 10-year/150,000-mile warranty1 for added peace of mind.
What about old Toyota hybrid batteries and the environment?
Toyota has its own hybrid battery recycling initiative that does everything possible to repair, remanufacture, repurpose, or recycle old hybrid batteries to ensure they stay out of landfills. In fact, since 2010, Toyota has recovered and recycled nearly 150,000 hybrid batteries, which totals over 9.2 million pounds!